Winter 2021

PRINTMAKING TODAY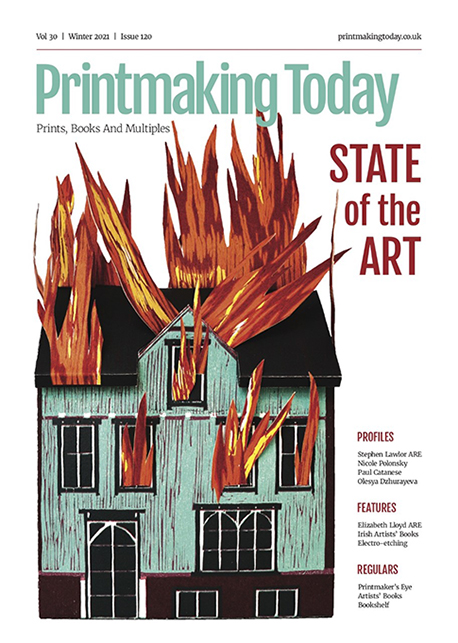 Nicole is delighted to be the subject of a profile in the Winter 2021 issue of
Printmaking Today
. In this illustrated feature, writer and curator Tessa Peters reflects on Nicole's creative practice from her MA at the Royal College of Art in the 1980s to the present day, including her ongoing collaborative project with a textile conservation studio and composer A.C. Lovett.

Read more
http://www.cellopress.co.uk
28 August–17 October 2020

THE BOOK AS ART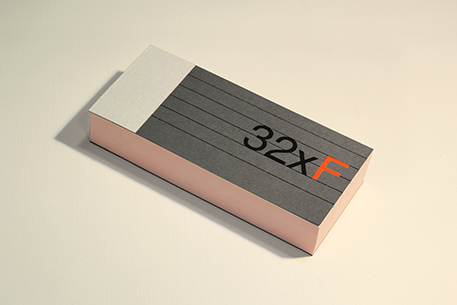 32xF
, 2014

Variety of papers and card, including fluoro, screenprinted in acrylic ink; adhesive bookcloth; laser-cut adhesive vinyl

Signed and numbered in pencil

53 x 126 x 25mm

Edition of 50 and five artist's proofs

Public collections: Museum of Modern Art (USA); Lafayette College (USA); Decatur Arts Alliance (USA); MACBA Museum of Contemporary Art of Barcelona (Catalonia/Spain); Chelsea College of Arts Library (UK); Poetry Library (UK)

Photo: Richard Sharples

'The objects in this exhibition will interpret the concept of the book and invite the viewer to look beyond the printed page to where ideas, words, and symbols are transformed and are transfigurative. They are expressive, expansive and iconic. They have become form, and are infinite' – Decatur Arts Alliance. Nicole is delighted her bookwork
32xF
was selected from an international submission for this show in the Periodicals Gallery at the Decatur Branch of the DeKalb County Public Library, Georgia, USA.

https://decaturartsalliance.org/book-as-art-infinity/
1–31 August 2020

LAPSE:RE:LAPSE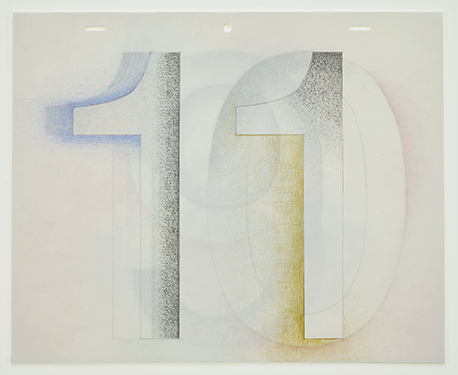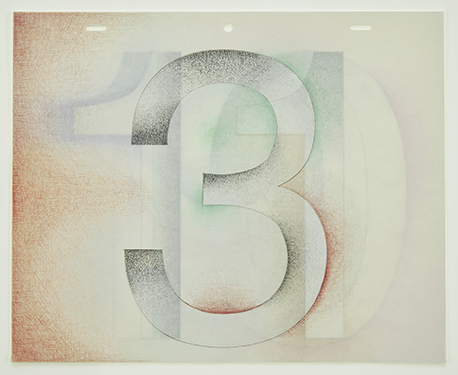 11109876543
(top);
31110987654
(bottom)

From
lapse
, 2020 – a cycle of nine drawings in nine iterations

Graphite and coloured pencil on animation paper

267 x 328mm each

Photography: Matthew Booth

Throughout August MOCA London WE hosts
lapse:re:lapse
, a solo presentation by Nicole comprising a cycle of nine drawings and a new film.
lapse:re:lapse
sprang from a consideration of 'leaders', the section of celluloid stock that allows film to be cued correctly. Nicole reinterprets an early standardised format of the synchronising leader – or numbered countdown – that scrolls from 11 to 3, reimagining it as theme and subject in its own right. Nicole warmly thanks Eleanor Rogers for assisting in the realisation of this venture.
https://www.moca.london/we_nicolepolonsky.html

8 November–7 December 2019

A POLLOCK'S GALLIMAUFRY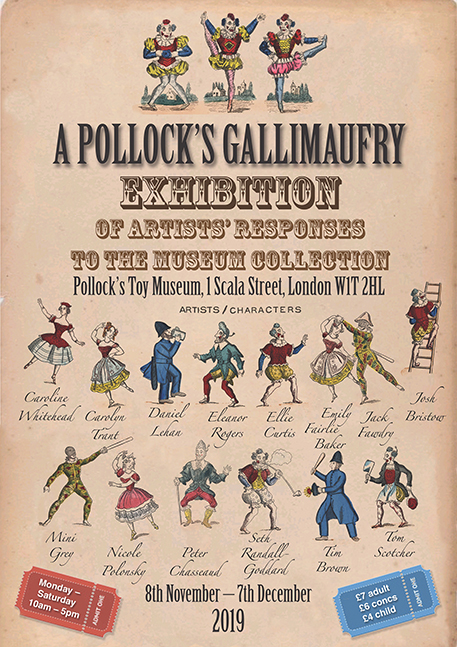 A Pollock's Gallimaufry
is an exhibition of works made in response to the Pollock's Toy Museum collection and archive. The 14 artists participating in
A Pollock's Gallimaufry
have been offered unprecedented access to the Museum's international array of toys, dolls, puppets, games, gadgets, and the paper theatres for which it is best known, as well as its archive of original engraved copper plates used in the production of those theatres. The resulting pieces, installed as stand-alone displays and interventions across the Museum, span a variety of approaches, processes and media. Contributing artists are: Emily Fairlie Baker, Josh Bristow, Tim Brown, Peter Chasseaud, Ellie Curtis, Jack Fawdry, Mini Grey, Daniel Lehan, Nicole Polonsky, Seth Randall-Goddard, Eleanor Rogers, Tom Scotcher, Carolyn Trant and Caroline Whitehead.
A Pollock's Gallimaufry
is co-ordinated and produced by Nicole and Caroline Whitehead, in collaboration with Jack Fawdry from Pollock's Toy Museum.

1 Scala Street, London W1T 2HL

http://pollockstoys.com
May 2019

LIGHTING UP TIME

Especially for The Late Shows 2019, Nicole is proud to receive Arts Council England funding to produce
Lighting Up Time
, a dynamic piece in two parts inspired by the silent film era and its Deaf actors.

https://thelateshows.org.uk
7–11pm Friday 17 May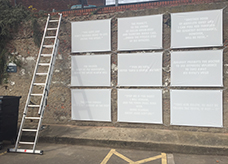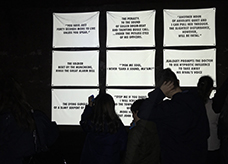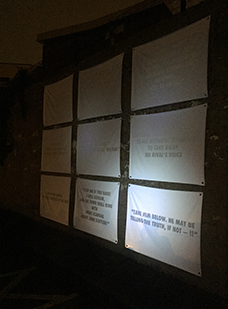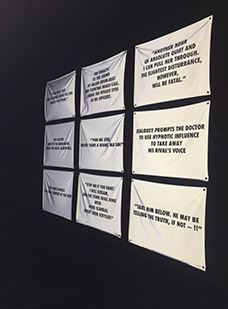 Lighting Up Time
, 2019

Installation views, Northern Print

An interactive installation of banners and audio refrains takes up residence at Northern Print for one night only. Lines of text, or 'intertitles', found in silent films, have been screenprinted by the artist on reflective banners, which light up when viewers direct torches at them. Each of the texts is teamed with a unique sound composition by Andrew Lovett that can be listened to on phones and tablets. This juxtaposition of visuals and audio recalls early cinema and the live scores that often went hand in hand.

8.30–9.30pm BSL interpreter available for Deaf visitors to discuss
Lighting Up Time
with the artist and gallery team.

Northern Print, Stepney Bank Newcastle upon Tyne NE1 2NP https://northernprint.org.uk/blogs/events/the-late-shows-lighting-up-time

7–11pm Saturday 18 May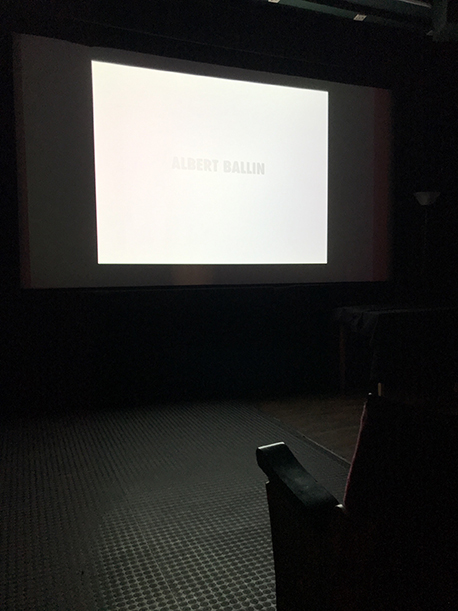 Lighting Up Time
, 2019

Installation view, Side Cinema

A superfast looped screening at Side Cinema includes flash frames emblazoned with the names of Deaf actor-pioneers of silent film: Emerson Romero, Louis Weinberg, Carmen de Arcos, Granville Redmond and Albert Ballin. Through them the artist briefly illuminates a little-known period of film history in which Deaf actors performed alongside hearing counterparts for audiences that were equally diverse. The flash frames, which recall subliminal messages, are paired with a soundtrack featuring bursts of high-frequency audio, composed by Andrew Lovett. Hovering at the edges of perception, these ephemeral visual and acoustic effects chime with these actors' short-lived prominence.

Side Cinema, 5–9 Side Newcastle upon Tyne NE1 3JE

Nicole is indebted to the late John S. Schuchman, whose book Hollywood Speaks: Deafness and the Film Entertainment Industry was invaluable in the development of
Lighting Up Time
.


November 2018

GARAGELAND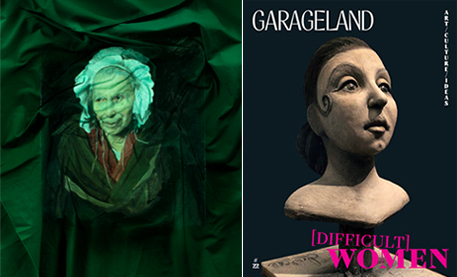 A Nervous and Sensitive Spirit
, 2018

Light projection on cotton fabric

Photo: Vanessa Short

La Monomane de l'envie
appears by permission of Museum of Fine Arts of Lyon © MBA Lyon

An essay by Nicole, 'A Nervous and Sensitive Spirit', and a new artwork by her of the same name are launched in the latest issue of
Garageland
, a biannual fine art and popular culture magazine. 'This issue of
Garageland
focuses on historical and contemporary artists and discourse... it explores a broad range of art making and artistic styles, and focuses on numerous long-standing political subjects like race, class and sexual orientation. Within this space, I hope to encompass a plurality of perspectives, and in doing so, sometimes reveal a provocation of contradictions' – Arlene Leis, guest editor. The artwork, which incorporates an image of Théodore Géricault's
La Monomane de l'envie
in the collection of Musée des Beaux Arts de Lyon, was achieved with the generous assistance of Vanessa Short and Lydie Gallais.

Read more
http://www.transitiongallery.co.uk/htmlpages/editions/garageland.htm
October 2018

THE WORD IS ART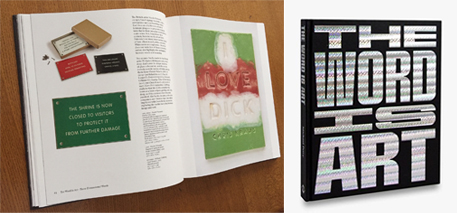 Nicole's practice is included in Michael Petry's
The Word is Art
, published by Thames & Hudson. The illustrated volume is '[a] global overview of how contemporary artists incorporate text and the written word into work that speaks to some of the most pressing issues of the 21st century'.

https://thamesandhudson.com/the-word-is-art-9780500239667
19 January–16 February 2019

6–22 November 2018

15 September–27 October 2018

FLOURISH AWARD 2018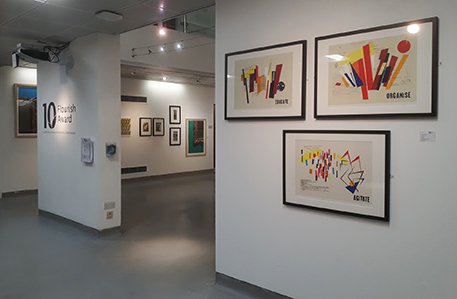 Nicole is pleased to have been shortlisted from a national submission for the Flourish Award for Excellence in Printmaking 2018. The jury comprised David Sinclair, Head of Visual Art and Engagement, The Civic, Barnsley; Tracy Hill, artist, Awagami Paper Award winner, Flourish Award 2017 and Research Associate at ArtLab CPS at UCLan; Grant Scanlan, Huddersfield Museums Manager. The Flourish Award exhibition opened at West Yorkshire Print Workshop before touring to two further venues.

West Yorkshire Print Workshop, 75a Huddersfield Road West Yorkshire WF14 8AT

PR1 Gallery, University of Central Lancashire, Adelphi Street Preston Lancashire PR1 7HD

Spike Print Studio, 133 Cumberland Rd Bristol BS1 6UX

Summer 2018

PRINTMAKING TODAY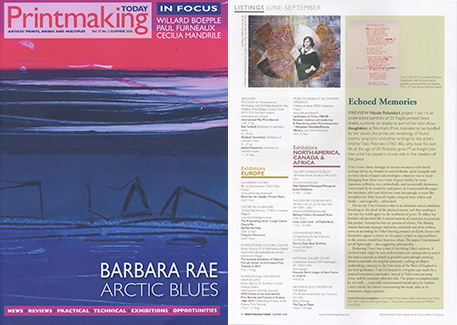 Coinciding with Nicole's solo presentation,
thoughtlines
, at Northern Print (details below),
Y not I
is previewed in the Summer Issue of
Printmaking Today
.

2 May–30 June 2018

THOUGHTLINES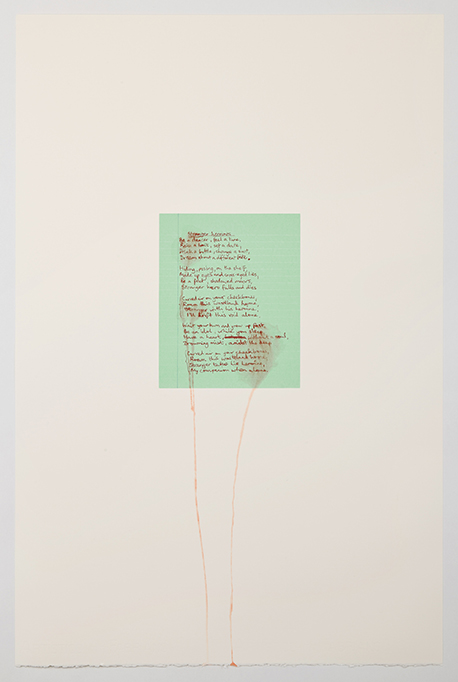 Lamentation I
, 2017

Screenprint with salt water and coloured pencil

760 x 500mm

Variable edition of 10

Photo: Matthew Booth

thoughtlines
is a solo presentation at Northern Print, 'the centre for excellence in printmaking in the North East of England'. This mid-career exhibition offers spectators opportunities to view in one gallery works demonstrating Nicole's experimental and conceptually rigorous practice.
thoughtlines
assembles several bodies of work reflecting the artist's enduring preoccupation with print as both process and subject. It includes the first public showing of all five screenprints comprising
The Lamentation Suite
, as well as
Muted
, a technically innovative series completed in 2018. Fresh from its installation at The House of St Barnabas,
Y not I
is articulated anew.

Northern Print, Stepney Bank Newcastle upon Tyne NE1 2NP

https://northernprint.org.uk/blogs/whats-on/thoughtlines-2-may-16-june-18?_pos=3&_sid=49dcc5768&_ss=r
1–3 March 2018

Y NOT I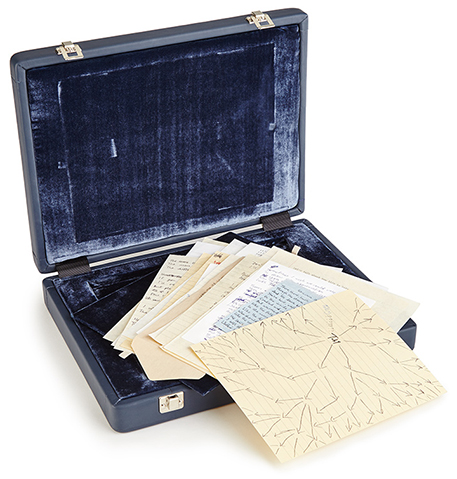 Y not I
, 2017

20 limited-edition screenprints on lightweight archival papers in a variety of colours and sizes, with additional graphite, coloured pencil, gouache and perforations; bespoke leather case lined with velvet and memory foam, by Bob Kingham.

Case 263 x 340 x 65mm

Print edition of 10

Photo: Matthew Booth

The 20 limited-edition screenprints comprising
Y not I
are a close rendering of found poems, lyrics and other texts by the artist's brother Toby Polonsky (1965–1986). The prints echo the look and feel of the original artefacts and include the author's own notations, edits and deletions. In this temporary installation at The House of St Barnabas,
Y not I
resonates with the sombre, contemplative character and functions of the Chapel, and the many forms of memorial and commemoration built into it. In a break with convention, visitors are invited to pick up the screenprints, which are distributed around the Chapel's stone seats. 'For me,
Y not I
is fully realised only when the prints are handled: their material insubstantiality—conveyed through touch—is intended to suggest Toby's fleeting, too brief life.' The private view includes the first performance of
Let's talk…
, a specially commissioned composition by Andrew Lovett.

Read
more
For so kindly supporting the realisation of this project, Nicole thanks Rebecca Bramwell, Clare Dowdy, Jo Gorner, Arlene Leis, Dominic Lutyens and Eleanor Rogers; Ben Barter and Becky Hill of the University of the West of England; composer Andrew Lovett; Katie Heller and Ki Yoong at The House of St Barnabas.

1 Greek St Soho Square London W1D 4NQ

22 February–21 March 2018

SCRIBBLING AND SCRAWLING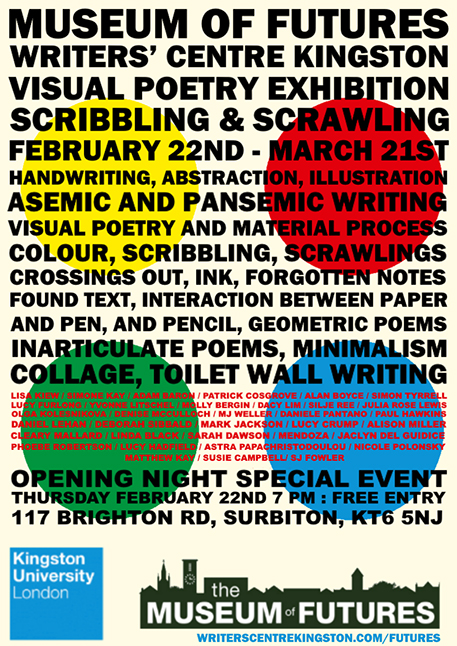 +/− I, from a series of artefacts by Nicole referencing proofreading marks, selected for inclusion in
Scribbling and Scrawling
, an exhibition of visual poetry curated by Molly Bergin, Yvonne Litschel and SJ Fowler from the Writers' Centre Kingston. The show, at Museum of Futures, includes 'works that explore the handmade, the illegible, the dirty, the rough, the visual, the material, the calligraphic, the link - works which resist their content and express their context. Works that celebrate the notation, the forgotten, the colourful. This exhibition aims to bring together generations, creative communities, including many students and faculty from Kingston University, alongside those local or connected to the region.'

Museum of Futures, 117 Brighton Road Surbiton KT6 5NJ

https://www.writerscentrekingston.com/futures
20 January–17 February 2018

THE CONTEMPORARY PRINT 2018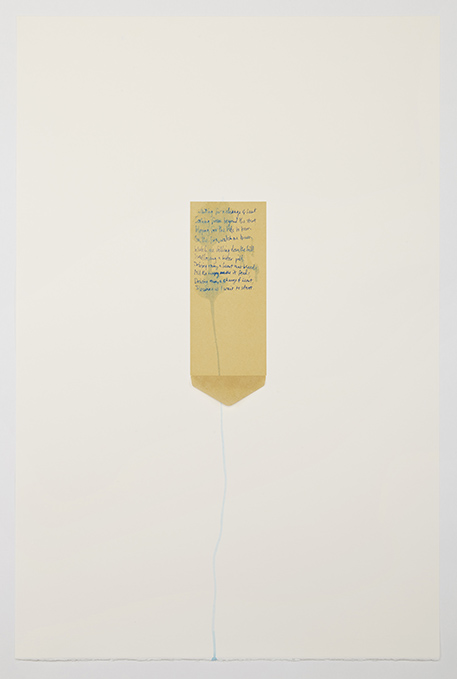 Lamentation II
, 2017

Screenprint with salt water and collage

760 x 500mm

Variable edition of 10

Photo: Matthew Booth

Nicole is delighted to be one of only 30 international artists selected for this juried show, to be held in Austin, Texas during PrintAustin 2018.
Lamentation II
is the second of five screenprints from
The Lamentation Suite
incorporating found lyrics and poems by the artist's brother Toby Polonsky (1965–1986).

'The Contemporary Print exhibition is a survey of the traditions and the innovations of contemporary printmaking happening today. While non-traditional or digital output is accepted as a print element, submissions must utilize traditional print media as their primary technique including: Lithography, Relief, Intaglio, Silkscreen and Monotype. This is the first time The Contemporary Print will be accepting international artists and we are excited to have our first juror from the United Kingdom. Dr. Paul Laidler is a Senior Research Fellow at the Centre for Fine Print Research (CFPR) and Senior Lecturer in BA Illustration / MA Multidisciplinary Printmaking, University of the West England, Bristol, United Kingdom.'

Flatbed Press and Gallery, 2830 East Martin Luther King Jr Bl, Austin, Texas 78702 USA

23 October–6 November 2017

BLUECOAT ONLINE FUNDRAISING ART AUCTION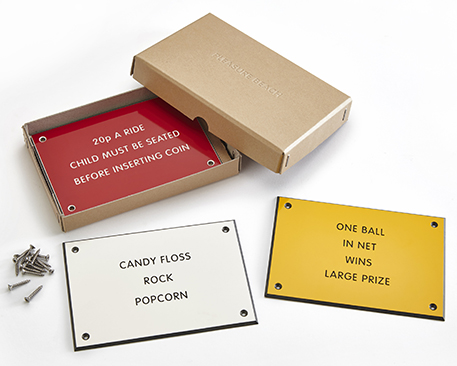 Untitled (Pleasure Beach)
, 1999

Engraved laminate panels and box with debossed type and printed vinyl labels

Photo: Matthew Booth

Nicole was pleased to donate
Untitled (Pleasure Beach)
to support the ongoing activities of this important cultural institution.

http://www.thebluecoat.org.uk/events/view/exhibitions/3784
4 February–23 April 2017

PUBLIC VIEW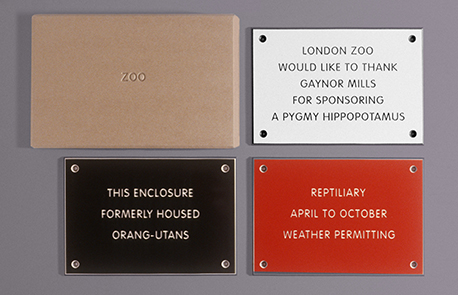 Untitled (Zoo)
, 1999

Engraved laminate panels and box with debossed type and printed vinyl labels

Nicole has several pieces included in
Public View
, an exhibition of works by some of the artists who have shown at Bluecoat over the past 50 years. Her work was first presented in the gallery in
New Contemporaries
, 1986, and again in
Second Wave
, 1988. 'For over a century [Bluecoat] has helped launch many artists' careers, initiated and hosted significant UK and international touring exhibitions, and been at the forefront of new developments in the visual arts, while nurturing the local artists' community.'

Bluecoat, School Lane, Liverpool L1 3BX

http://www.thebluecoat.org.uk/events/view/exhibitions/3586
25 August–30 October 2016
NEO:PRINTPRIZE 2016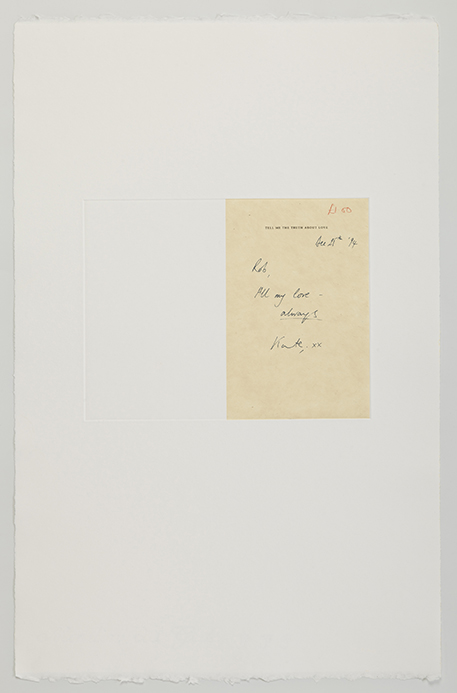 After Words I
, 2016

Nicole's
After Words I
has been selected for inclusion in this international print biennial. The distinguished jury comprised: Nancy Campbell (artist/writer, editor of
Printmaking Today
); Rachel Gladfelter (director, Pace Prints, New York); Gill Saunders (Head of Prints, Word & Image Department, Victoria & Albert Museum); Jo Stockham (Professor and Head of Print Programme, Royal College of Art).

neo:gallery23, The Market Place Shopping Centre Bolton BL1 2AL

30 March–1 May 2016

GHOST
[ED.]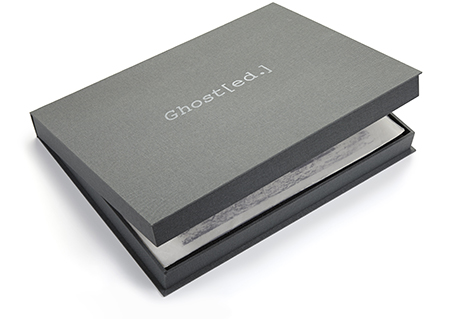 Ghost
[ed.] is exhibited at Idea Store Canary Wharf in Spring 2016. This innovative boxed suite of limited-edition stone lithographs has contributions from eight artists, and was published in 2015. Contributors to
Ghost
[ed.] are
Sue Baker Kenton
, Gino Ballantyne, Jessie
Brennan
, Tim Brown, Hen Coleman, Nicole Polonsky, Edit Toaso and Caroline Whitehead.
Ghost
[ed.] was devised by Nicole with Sue Baker Kenton and the project to realise it was co-ordinated by them.

The
Ghost
[ed.] suite emerged over time: after the very first image, participants were invited to respond in turn to the 'ghost' of the scheme that came immediately before theirs in the sequence. The ghost, or residual image, is usually discarded after editioning; in
Ghost
[ed.] it was printed together with the new 'key' image. Each finished lithograph comprises ghost and key images by two different artists. This layering of subject, motif and mark gives rise to surprising visual interplay within an intriguing and distinctive body of work.

Idea Store Canary Wharf is the fourth iteration of the exhibition:
Ghost
[ed.] was launched at Dean Clough, Halifax June–September 2015; it had its London premiere at Westland Place Studios, Shoreditch in October 2015; the suite was subsequently shown alongside other works by participating artists at Alfred East Gallery, Kettering Museum in January and February 2016.
Ghost
[ed.] is featured in the Summer 2015 issue of
Printmaking Today
.

Idea Store Canary Wharf, Churchill Place London E14 5RB

http://www.ghosted.co.uk/
http://www.cellopress.co.uk/

16–19 March 2016

7–15 April 2016

RCA SECRET 2016

Nicole has been invited to be part of RCA Secret, now in its 22nd year. 'The show of c. 2,000 original postcards is a rare and impressive opportunity for a range of internationally acclaimed artists, designers, alumni and up-and-coming graduates to exhibit in one space. Postcards are exclusively available at RCA Secret sales in London and Dubai. Each postcard is exhibited anonymously; the creator is only revealed once the card is bought. Proceeds from the cards, which are sold for £55 each, fund scholarships and bursaries for current RCA students.'

Art Dubai, Madinat Jumeirah; Upper Gulbenkian Gallery, Royal College of Art, Kensington SW7 2EU

1–23 February 2016

A NEW HOME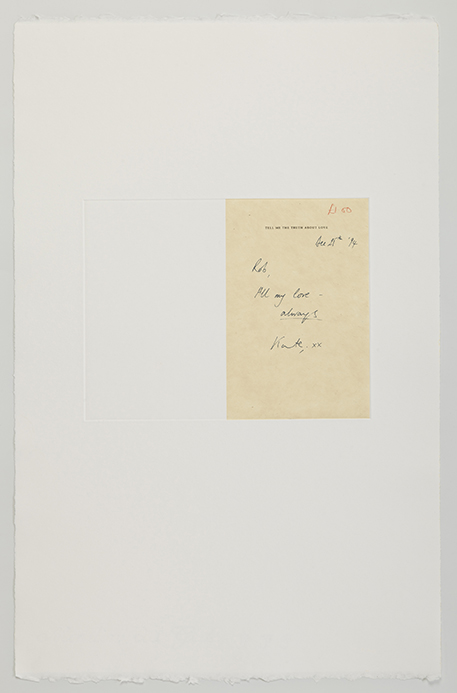 After Words I
, 2016

Deboss and collage with screenprint and coloured pencil on Moulin du Gué

Signature, title and number in edition on verso

580 x 380mm

Edition of 20

Nicole is participating in this show with other members of East London Printmakers and invited guests. About the print: '
After Words I
re-presents an inscription and title page from a book the artist bought secondhand at a charity shop. There is pathos in the dissonance between optimistic dedication and where it was uncovered. By what fluctuating fortunes did it come to be there? Were its sentiments not reciprocated? Or did mortality intervene? What
is
the truth about love? Now incorporated into a print, this resonant legend continues to unfold.' Nicole is indebted to Holly Birch at Animal Aid & Advice Bookshop, 203 Blackstock Road Highbury London N5 for helping her realise this project.

The Art Pavilion, Mile End Park Clinton Road E3 4QY

http://exhibitions.weebly.com/a-new-home-2016.html
6 January–3 February 2016

GHOST
[ED.]

This suite of eight limited-edition stone lithographs by eight artists was exhibited alongside other works by participating artists at Alfred East Gallery, Kettering Museum, Sheep Street Kettering Northamptonshire NN16 0AN

6 December 2015–10 January 2016

EKCO ART SALON

Nicole's work has been selected by curator Roberto Ekholm for inclusion at the EKCO Art Salon. The show, which includes editioned and unique artefacts by 23 artists from the UK, Germany, Norway and Switzerland, can be viewed by appointment.

http://www.ekco.london/#!art-salon-2015/cee5
December 2015

PRINTMAKING TODAY

Nicole is 'In Conversation' with artist and printmaker Jo Gorner in the Winter Issue of
Printmaking Today
, published on 01 December.

23 November–7 December 2015

(DIFFICULT) WOMEN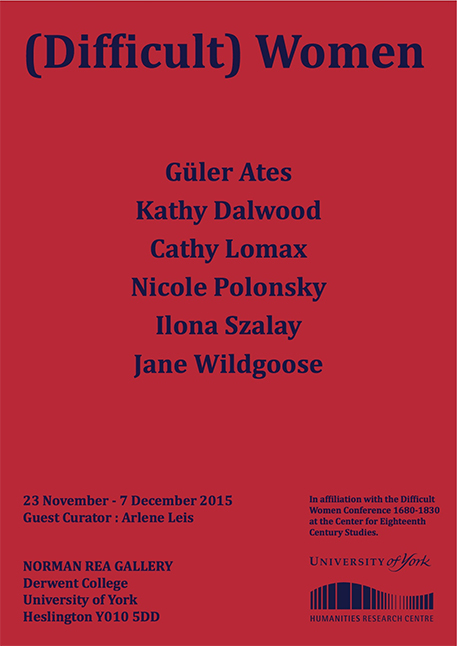 Nicole is one of six artists represented at the exhibition (Difficult) Women, curated by art historian Arlene Leis.
Untitled (I Am Taking Up Valuable Space)
is installed in the show, which is a partnership with 'Difficult Women in the Long Eighteenth Century: 1680-1830', a conference hosted by the History Department, University of York.

Norman Rea Gallery, Derwent College, University of York, Heslington York YO10 5DD https://difficultwomenconference.wordpress.com/2015/11/06/difficult-women-art-installation/
15 November 2015

POETRY LIBRARY OPEN DAY

Nicole's artist's book
32xF
was displayed at this event showcasing recent purchases made by the Poetry Library, which houses the Arts Council Poetry Collection.

Poetry Library, Royal Festival Hall, London SE1 8XX

http://www.poetrylibrary.org.uk/exhibitions/current/?id=108
1–4 October 2015

GHOST
[ED.]

The London launch of this suite of eight limited-edition stone lithographs was held at Westland Place Studios, 3-11 Westland Place London N1 7LP

13 June–6 September 2015

GHOST
[ED.]

The suite of eight limited-edition stone lithographs was launched at Dean Clough, Halifax West Yorkshire HX3 5AX

29 March–24 April 2015

A

DLROW

FOR

EHT

TAKING

In
A Dlrow For Eht Taking
Nicole offers a site-specific installation which responds to the domestic window as a liminal arena and space of encounter between the private and public realms. The artist is interested in this as a locale where gestures towards activism may be performed, and political affiliations, belief systems and cherished hobbyhorses voiced within the constraining parameters of the surrounding frame.

A Dlrow For Eht Taking
includes a text that mines Nicole's personal biography. This is the first time within her mature creative practice that the artist has produced an explicitly diaristic piece. Comprising lines of reverse, or mirror, writing inscribed in turn on the inside and outside of the window pane, the text reads correctly only when viewed line by line from opposite sides of the glass. This performative piece is only fully realised through the active participation of the viewer. By teasingly inviting and hampering the spectator's engagement with the work, the artist seeks to convey her ambivalence towards self-revelation as source material and subject.

The Kitchen Window Gallery, 66 Juniper House, Pomeroy Street New Cross London SE14 5BY

30 November 2014–2 January 2015

FEAST

Nicole will be participating in this group show at The Kitchen Window Gallery. The other exhibitors are Jessie Brennan, Daren Callow, Frog Morris, Susan Plover, Veronika Spierenburg and Jacquie Utley. Feast may be seen 24/7 from the public balcony outside the gallery in the window of 66 Juniper House Pomeroy Street New Cross London SE14 5BY http://thekitchenwindowgallery.blogspot.co.uk/
26–28 September 2014

THE LONDON ART BOOK FAIR

Nicole will be represented by Kaleid editions at the London Art Book Fair. This three-day event showcases 'the best in international contemporary art publishing' and will feature Nicole's limited-edition artist's book
32xF
.

Whitechapel Art Gallery, Whitechapel High Street London E1 7QX


16 September 2014

EAST LONDON PRINTMAKERS ANNUAL EXHIBITION

Nicole was privileged to deliver the encomium welcoming VIP Albert Irvin OBE, RA to the launch of East London Printmakers' annual exhibition at the Embassy Tea Gallery, 195-205 Union Street London SE1 0LN

https://www.facebook.com/media/set/?set=a.759197964115659.1073741841.196294350406026&type=1
13 September 2014

TYPE > ARTY > TYPE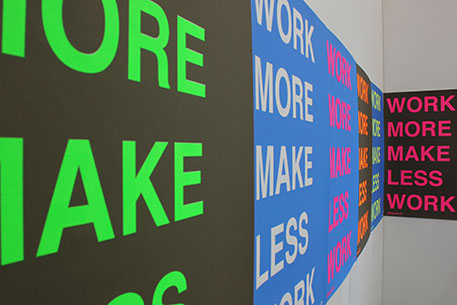 Untitled (Ethics 20:13)
, 2013

Installation view, detail

Nicole will be giving a talk at the V&A about the use of type within her creative practice. She is appearing as part of the London Design Festival as a guest of Studio Tuck-Tite 'Off the Press'. Nicole's presentation will offer insights into carefully considered and sometimes wry works which demonstrate her enduring interest in the demotic as subject, and the deadpan as a vibrant form of visual expression.

V&A, Cromwell Road London SW7 2RL

19 July 2014

KALEID 2014

Nicole's bookwork
32xF
has been selected for KALEID 2014, a curated event showcasing 'fifty of the best books by artists, galleries and small publishers based in Europe.' The jury comprised David Senior, Bibliographer, MoMA Library, New York, USA; Elizabeth James, Senior Librarian, National Art Library, V&A Museum, London, UK; Sofie Dederen, Director, Frans Masereel Centrum, Kasterlee, Belgium. This free event is open to the public on Saturday 19 July 2014 at The Art Academy, Mermaid Court 156a Borough High Street London SE1 1HR.

http://www.kaleideditions.com/kaleid-2015/kaleid-2014/
19 April–18 June 2014

ORIEL DAVIES OPEN 2014

Nicole's drawing
Untitled (Mendelssohngs)
, 2013 has been selected for the Oriel Davies Open 2014. 'The selectors [were] looking for the very best in a wide range of media and approaches across national and international contemporary art and craft practice today.'

Oriel Davies Gallery, The Park Newtown Powys Wales SY16 2NZ

http://www.orieldavies.org/
May 2014

32XF

32xF
, 2014 (and details)

Variety of papers and card, including fluoro, screenprinted in acrylic ink; adhesive bookcloth; laser-cut adhesive vinyl

Signed and numbered in pencil

53 x 126 x 25mm

Edition of 50 and five artist's proofs

Nicole has editioned her book,
32xF
. It was conceived, designed, screenprinted and bound by hand by the artist.

This book uses Benesh Movement Notation to depict the 32
fouettés en tournant
as they appear in the coda of the Act III pas de deux from Petipa's
Swan Lake
. This feat of discipline and athleticism was first accomplished by Pierina Legnani, in 1892, and went on to become a mainstay of the classical ballet repertory.

The artist seeks to make analogies between the notation score and the practice of screenprinting. The score comprises perseverant motifs encoding ritualistic, repetitive actions. These are mirrored in the ritualistic, repetitive process by which the score was committed to paper. Fluoro-backed papers reference stage lighting, illuminating the printed subject. Taking the form of a flip book,
32xF
unfolds, like dance itself, in time and space.

Benesh Movement Notation appears by kind permission of the Benesh Institute and the Royal Academy of Dance. This project was enabled and generously supported by the Institute's director, Liz Cunliffe, to whom the artist is indebted.

November–December 2013

X/M/L/S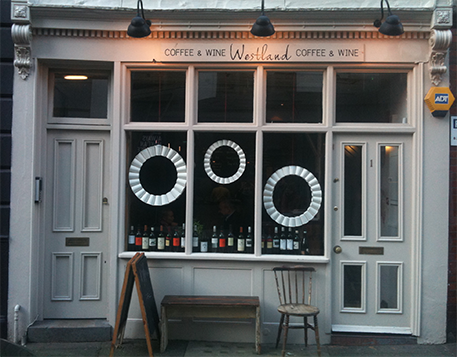 Nicole designed and made the holiday window decorations for Westland Coffee + Wine out of three sizes of takeaway cup. Would you like your festive wreath S/M or L? http://www.westlandcoffee.co.uk/

3–6 October 2013

7305 DAYS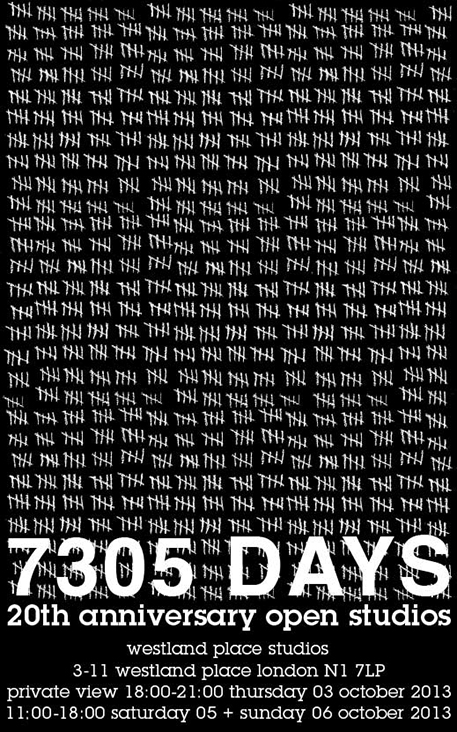 Nicole will be participating in
7305 days
, Westland Place Studios' 20th anniversary open studios.

NOW / THEN

Throughout 7305 Days, Nicole will perform
now / then
- 18 iterations of an exhibition spanning 20 years of her creative practice. At 30 minutes past each hour, Nicole will curate a new display of recent work (now: 2010–), alongside pieces from her personal archive (then: 1993–2009).

now / then
will establish visual and other thematic dialogues between Nicole's current and earlier output, and highlight motifs and preoccupations from the artist's career to date.

24 June–13 July 2013

UNENDING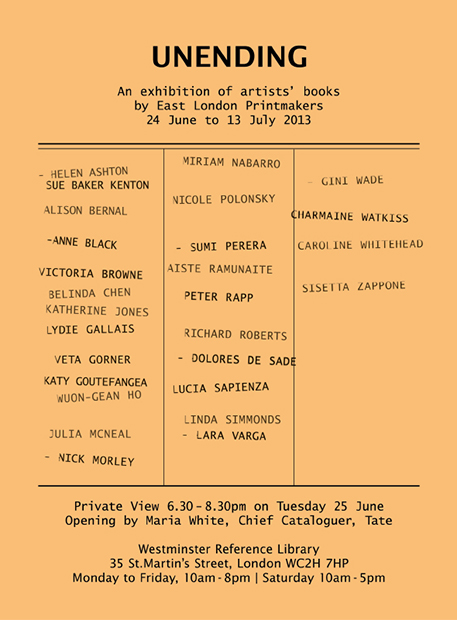 Nicole will be participating in an exhibition by members of East London Printmakers at Westminster Reference Library,

35 St. Martin's Street London WC2H 7HP

January 2012

STATIONARY

Nicole has completed her limited-edition suite of four
Stationary
prints.

'Stationary
began as an apparently contrary conceit: to use time-honoured printmaking methods to render printed and paper matter from a tradition of mass-production. This deliberately absurd scheme involves sedulous tasks undertaken in the service of objects that are readily available and cheap: the raffle ticket, luggage tag, record card and lined paper. The resulting limited-edition prints are not just a paean to everyday design and functionality; they are an elegiac rumination on fine art printmaking. Celebrating the slow and deliberate way in which marks emerge from my own hand, they are testaments to my intentions and the value of making.

'Exploiting a homophone, the title
Stationary
makes reference to the subject matter itself and the still, austere qualities of the finished pieces.'

June 2011

+/ – I, II AND III

Nicole has completed
+/ – I
,
II
and
III
, which emerged from an investigation into proofreading marks as subject. 'Proofreading marks are crucial to the development of printed matter, and yet are discarded in the process of producing it. As inky jottings on paper, the symbols identify errors in proof texts in single, manual, flourishes, which often inhabit the margins of the page.

'In
+/ –
I place the symbols centre stage. They are no longer commenting on the subject – the proof text – but themselves become the subject. I opted for deliberately absurd, time-consuming, rituals with which to describe them: stitched and etched, they appear to achieve a kind of permanence.

'There is, however, a tension between what they look like and what they mean. I chose for this series only those symbols that would result in no markmaking whatsoever: they instruct the typesetter to delete, remove extraneous marks, add space. Their physicality suggests an enduring quality that is denied by the meanings of the symbols themselves; the marks seem more substantial than their hand-rendered counterparts, but may not be. I see these works as modest and self effacing – an interrogation of presence and absence.'

21–26 June 2011

30 YEARS OF THE RUSKIN DEGREE SHOW

A degree show poster designed by Nicole will be included in this exhibition at Modern Art Oxford.
https://artmap.com/modernartoxford/exhibition/ruskin-degree-show-1981-2011-2011
25 June 2011

A3 HAND DRAWN & QUARTERED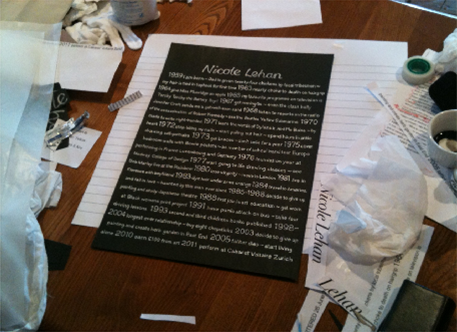 A3HD&Q 26
, 2011

Work-in-progress (detail)

Memorial Service for Nicole Lehan and Daniel Polonsky

3pm Saturday 25 June 2011 Carnivale 2 White Church Lane London E1 7QR.

The original artwork for
A3HD&Q 26
was left on the 18:47 New Cross Gate to Caterham train on Wednesday 11 May 2011 and remains lost. Sadly it is not possible to replicate it and so this 'corroboration' by Daniel Lehan and Nicole Polonsky can never be published. A memorial service to commemorate this loss will be held at the above date and time.

About the project:

The banal, inconsequential, partial and downright fake of the Twitter generation are celebrated in issue 26 of
A3 Hand Drawn & Quartered
.

The zine is produced and distributed by artist Daniel Lehan, in collaboration with a different artist each month. The new issue, launching in June, is a 'corroboration' with Nicole Polonsky, who shares Daniel's interest in linguistic and conceptual playfulness.

Each side of HD&Q26 is given over to an invented character - Nicole Lehan and Daniel Polonsky - who is a mashup of the co-creators' biographies, with fictional embellishments. Nicole Lehan's tale is picked out in repressed, deceptively orderly, hand-scribed Helvetica; Daniel Polonsky's is more rushed and urgent - and a tad more bonkers with it - and calls up collective memories of Protein Man-style signage.

In deadpan tones, we read that Nicole Lehan's birth in 1959 was marked by local tribesmen with the gift of 24 chickens; by 1975 she was touring Europe in a school band; in an apparent downturn, 1991 saw her suffering a panic attack on a bus; she's performing at Cabaret Voltaire in 2011, so things are looking up again. Daniel Polonsky, meanwhile, showed early promise in 1968 as winner of the Tufty Club colouring competition. Two years later his father began communicating with him in semaphore. He lost his virginity - a rather abject affair, one surmises - in 1976, and was chucked the next day. But then, he did keep his socks on...

This as-it-says-on-the-tin A3 hand-drawn publication appeals to both the nosy devourer of tittle-tattle, and the attention-deficit-disordered channel-hopper. Litho-printed in black and white, it can be picked up for free in London at:

Artwords Bookshop; Banner Repeater, Bookartbookshop, Beaconsfield, Camden Arts Centre, Donlon Books, Gasworks, ICA, The Montague Arms, the Nunnery, Peckham Space, South London Gallery, Whitechapel Gallery, Wiebke Morgan and Shift.

http://www.daniel-lehan.com
November 2010

WRONG

Nicole has completed this suite of ten drawings using correction fluid on graph paper. In successive works, the artist depicts precise proportions - 10, 20, 30 per cent etc. - by superimposing lines of correction fluid over the appropriate numbers of grid lines. This orchestrated standoff between hand-drawn and machine-generated lines is intended teasingly to conjure a world in which 'wrongness' can be identified and precisely calibrated. But which is 'wrong' - the febrile, fluctuating, traces of the artist's own hand or the detached precision of the printed graph beneath them?

The title, which references work by the same name by John Baldessari, may seem declamatory. For Nicole, these are not in fact polemical pieces; the drawings inhabit the very human terrain of nuance and uncertainty which is central to her practice.

Nicole would like to thank Paul Winterburn, Site Manager, Tachodisc Ltd, whose unstinting generosity with time and materials allowed her to realise this project.
http://www.tachodisc.co.uk/

28 August–3 November 2010

LINES OF DESIRE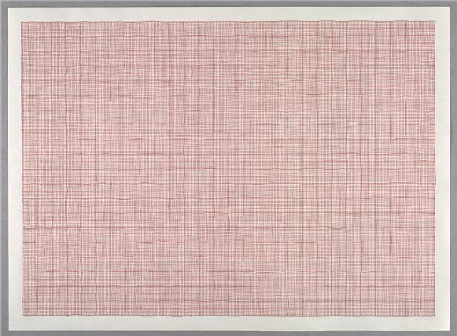 100 Per Cent Wrong I
, 2010

Red ink on graph paper

Signed and dated on verso

558 x 762mm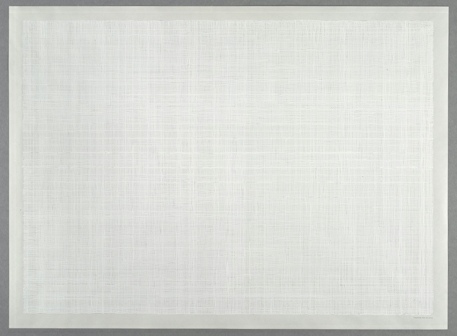 100 Per Cent Wrong II
, 2010

Correction fluid on graph paper

Signed and dated verso

558 x 762mm

Two drawings and a print by Nicole have been selected for

Lines of Desire, Oriel Davies Gallery, Powys, Wales

'These works on paper reflect shared conceptual and formal preoccupations: notions of 'right' and 'wrong', compliance and resistance, are interrogated through materials and conventions of the classroom.

The drawings record a standoff between machine-generated grids and my own marks. Which ones are 'wrong'? The titles, though declamatory, are also ambiguous. These pieces celebrate lines that can be both deadpan and vibrant.'

http://www.orieldavies.org/en/node/299