Y NOT I

Chapel, The House of St Barnabas, 1 Greek Street, Soho Square, London W1D 4NQ

Private view: Thursday 1 March 2018, 6.30–9pm

Exhibition: 2–3 March 2018, 12–7pm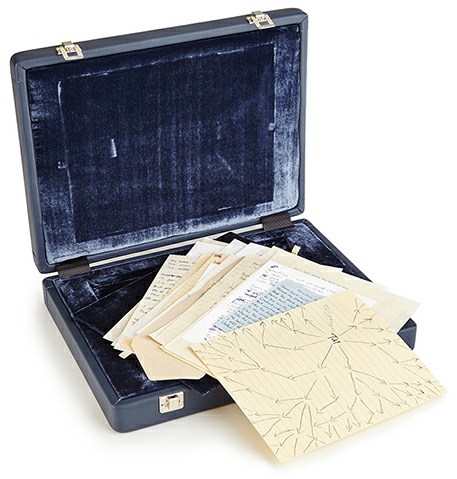 Y not I
, 2017

Photo: Matthew Booth

Y not I
* is a series of 20 limited-edition screenprints by artist Nicole Polonsky. The prints are a close rendering of found poems, lyrics and other texts by the artist's brother Toby Polonsky (1965–1986), who took his own life at the age of 20.

Y not I
represents only a small number of the writings Toby left behind. By turns rapturous, reflective, wry and melancholic, and occasionally humorous, the texts—handwritten and typed—include the author's notations, edits and deletions. The prints are on a variety of lightweight archival papers and echo the look and feel of the original inscriptions in exercise books, spiral notepads and on loose sheets of paper and envelopes—whatever was to hand. The series concludes with one screenprint rendered in photoluminescent ink. Its glow-in-the-dark properties are fleeting and dwindle to nothing. For the artist,
Y not I
alludes both literally and metaphorically to the fragility
and
power of the source materials, to the transitory, "unbearable lightness" of Toby's too brief life.


Y not I
is launched at a temporary installation in the Chapel, The House of St Barnabas, London. The prints resonate with the Chapel's sombre, contemplative character and functions; their physical insubstantiality is a counterpoint to the robust memorials—engraved commemorative plaques and stained-glass windows—built into the fabric of the Chapel—the ephemerality of one body of texts set within the solid immutability of the other. In a break with convention, visitors are invited to handle the original screenprints, which are distributed around the Chapel's stone seats. Through these haptic encounters, the
Y not I
prints are momentarily vivified before again coming to rest; their near weightlessness suggests incorporeality and evanescence.

The private view includes the first performance at 7.30pm of
Let's talk…
, a specially commissioned composition by Andrew Lovett. The piece is played at 30 minutes past each hour for the duration of the show.
Let's talk…
includes vocal samples by Frances M Lynch, and audio captured at East London Printmakers, an open-access studio in Mile End. The recording and its public performance were facilitated by Herbie Clarke. Andrew Lovett is a composer, currently based in Princeton, US. He specialises in opera, music-theatre and chamber music. He worked especially closely with London-based ensemble the Electric Voice Theatre (music director, Frances Lynch), composing three large-scale works for them. His most recent opera, The Analysing Engine, was performed in Princeton in November 2017.

The
Y not I
prints are in a limited edition of 10, on archival papers in a variety of colours and sizes, with additional graphite, coloured pencil, gouache and perforations; bespoke leather case lined with velvet and memory foam, by Bob Kingham, measures 263 x 340 x 65mm.